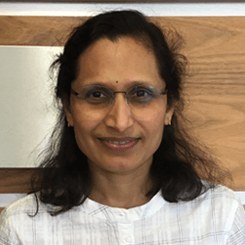 Principal
BDS, MFDS RCS Eng, MSC SND Lond, MSND RCS Edn
GDC No. 104761
PG Certificate in Restorative Dentistry, PG Certificate in Dental Implantology
After graduating as a Batchelor of Dental Surgery in India I completed a Masters in Child Dental Health and Preventative Dentistry. I then practiced for a year as a specialist paediatric dentist in India.
I completed a master's programme in Special Care dentistry at Eastman Dental Institute, London. I completed further qualifications of MFDS (Membership of the Faculty of Dental Surgeons) and MSND RCSED.
I worked as a Senior House Officer in restorative dentistry and Oral Maxillofacial surgery. I then completed yearlong vocational trainee programme under the London deanery scheme. I worked as an associate for four years and during this time I also gained experience and the clinical skills required to provide quality dental care under LA and IV sedation.
I feel that over a period of training and practicing dentistry in a number of challenging groups I have developed the confidence and skills required to give my patients a high level of care. I have developed an understanding of treating patients with specialist requirements, specifically children and those with special needs and I have dedicated myself to making a difference whilst providing preventative dental care and restorative management for both children and adult patients.
My passion is providing quality dental care for anxious patients by using a combination of non-invasive and invasive methods ranging from behavioural shaping to IV sedation. I am keen on updating and adapting to rapidly developing dental technology and being able to provide my patients with an option for treatment, as well as enabling them to overcome their fear of the dentist and move forward with their
dental health in a more positive way.